---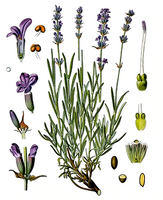 Botanical Name: Lavandula angustifolia
Origin: United States
Uses

Can be used to make lavender infusions, for hot baths, to make poultices or for aromatherapy.
PRECAUTIONS
No known precautions. We recommend that you consult with a qualified healthcare practitioner before using herbal products, particularly if you are pregnant, nursing, or on any medications..
For educational purposes only. This information has not been evaluated by the Food and Drug Administration.
This information is not intended to diagnose, treat, cure, or prevent any disease.