---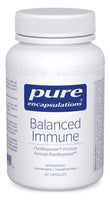 Formulated with Dr. Samuel F. Yanuck, an internationally recognized immunology thought leader and educator.
Foundational support for healthy immune response, bone health and antioxidant status.
Part of the PureResponse™ Immune Protocol for healthy immune balance and function
Contains a blend of resveratrol, enhanced-absorption curcumin, black galingale, broccoli, quercetin and vitamin D
Supports immune function and promotes cellular protection against free radicals
Helps to build strong bones and teeth and prevent vitamin D deficiency
Balanced Immune is designed to support immune balance and tissue health, in part by targeting the NLRP and NF-κB pathways to modulate cytokine production. NLRP (NOD-like receptor proteins) act as intracellular sensors to oxidative and environmental stressors. Research suggests vitamin D supports healthy cellular response, in part by modulating this pathway. This formula provides cellular protection against oxidative stress by promoting numerous enzyme and gene transcription pathways. Resveratrol supports the activity of Nrf2, a transcription factor that supports cellular function by promoting protection against oxidative stress. Curcumin is included in this formula as clinically researched and patented Meriva® curcumin-phosphatidylcholine complex, which offers enhanced efficiency of absorption and resistance to degradation in the digestive tract. Pharmacokinetic data suggests a 20-fold increase in relative absorption compared to standard curcumin. Balanced Immune also offers broccoli, which is primarily recognized for its bioactive constituent sulforaphane, and SIRTMAX® black galingale extract, which has been studied in a double-blind, placebo-controlled, crossover study.