---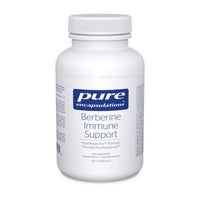 Formulated with Dr. Samuel F. Yanuck, an internationally recognized immunology thought leader and educator. Helps to maintain immune function by supporting healthy Th1 cell activation.
Promotes healthy immune response:
Part of the PureResponse™ Immune Protocol for healthy immune balance and function
Contains a blend of berberine, Chinese skullcap, broccoli, ginger and zinc
Supports healthy activation of Th1 cells to promote innate immunity and cell-mediated immune defences
Maintains healthy immune biomarkers and cytokine balance related to cell tissue health and comfort
Berberine Immune Support is designed to maintain immune health by supporting healthy activation of Th1 cells, thereby promoting innate immunity and cell-mediated immune defences. Th1 responses are affected by stress, aging and cytokine changes resulting from metabolic, hormonal, physiological, and environmental factors. This product helps balance cytokine production in order to promote Th1 differentiation. Support for Th1 may be indicated for enhancement of natural defences. Berberine is a natural plant alkaloid that has been researched in clinical and preclinical studies, while ginger is a traditionally used and clinically studied herb. Zinc plays an important role in supporting the body's defence system, promoting healthy neutrophil, natural killer cell, and T-lymphocyte function. This formula also offers skullcap and broccoli, which are primarily recognized for their bioactive constituents baicalin and sulforaphane, respectively.