---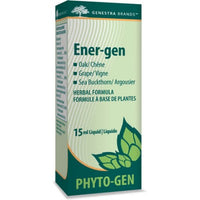 Ener-gen – Main Functional Support Rebuilds physical strength
Ener-gen is a remarkable tonic for fatigued individuals. It works on many different levels to help awaken the vital healing forces needed to properly respond to chronic conditions that have not responded to treatments due to an insufficient healing response. It works to counter senescence by stimulating noradrenalin, tonifes the glandular systems and acts as an adaptogen. It aids the microflora to facilitate proper intestinal absorption of vitamins, minerals and enzymes necessary for proper biochemical reactions. In addition, it is rich in nutrients essential for breaking down immunological chain reactions and to balance chronic inflammations that deplete the organism of vital energies.
KEY INGREDIENTS:
Fig Bud Extract, Hawthorn Bud Extract, Silver Linden Bud Extract
Suggested Use:
Adults and Children (over 12 years): Take 10 drops once daily under the tongue, or as recommended by your healthcare practitioner. Risk Information: If you are pregnant or breastfeeding, do not use, unless directed by your healthcare practitioner. If symptoms persist or worsen, consult your healthcare practitioner.
Phytoembryotherapy is a branch of phytotherapy that specifically incorporates plant embryological tissues (buds, young shoots, etc.) containing •plant meristem• cells • undifferentiated, fast dividing cells which contain the plant•s genetic blueprint and material. These embryonic tissues are rich in beneficial phyto-chemicals including: growth factors and plant hormones, enzymes, nucleic acids, oligoelements, and phytonutrients such as polyphenols and flavonoids. These embryological tissues are also utilized because many of the above mentioned components are lost in fully developed plants once chlorophyll is formed. These embryological tissues are also utilized because their energetic components are at their highest levels when they are harvested in the spring - the most active phase of the growth cycle.