---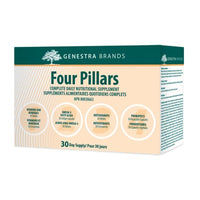 Complete daily nutrient formula
• Includes the four major foundations of good health: vitamins and minerals, antioxidants, human-sourced probiotics and omega-3 essential fatty acids
• Maintains eye, skin and bone health, as well as immune system and muscle tissue function
• Supports cardiovascular and cognitive health
• Supports healthy glucose metabolism
• Temporarily modifies gut flora with 2.5 billion CFU of research-driven strains
Versatile, convenient & patient-friendly
• Great for maintenance and therapeutic regimes
• Contains 30 easy-to-use portable strips
• Cost-effective combination of key supplements
Four Pillars is a complete daily nutrient formula that promotes overall wellness by providing the four cornerstones of good health. Randomized, placebo-controlled trials have found that daily multivitamin and mineral supplementation maintains good health.1-3 Specifically, the vitamins and minerals in this blend support healthy glucose and nutrient metabolism, and maintain eye, skin and bone health, as well as immune and proper muscle function. Research involving omega-3 fatty acids demonstrates that EPA and DHA support cognitive health by promoting neural membrane function.4 They also support healthy prostaglandin production and blood flow, thereby promoting cardiovascular health.5 A variety of antioxidants are provided in Pillar 3, including vitamins C and E, lipoic acid, N-acetyl cysteine and coenzyme Q10, along with standardized fruit extracts. This powerful blend provides broad-spectrum antioxidant support throughout the body. Proprietary, research-driven probiotics are also included to support gastrointestinal health and contribute to a healthy gut flora.
Key Ingredients:
Alpha lipoic acid, Beta-carotene, Bifidobacterium animalis subsp. lactis (CUL 34), Bilberry fruit, Biotin, Black currant fruit, Blackberry fruit, Boron, Choline, Chromium, Coenzyme Q10, Docosahexaenoic acid (DHA), Ellagic acid, Folate, Grape skin std. extract, Green tea leaf std. extract, Inositol, Iodine, Lactobacillus acidophilus (CUL-21), Lactobacillus acidophilus (CUL-60), Lycopene, Magnesium, Maritime pine bark std. extract, Molybdenum, Natural mixed carotenoids, Niacinamide, Omega-3 Fatty Acids, Pantothenic acid, Potassium, Quercetin, Riboflavin, Selenium, Silicon, Thiamine, Vanadium, Vitamin A, Vitamin B12, Vitamin C, Vitamin D, Vitamin E, Vitamin K1, Zinc

References
1. Hossein-Nezad A, Spira A, Holick MF. PLOS ONE. 2013; 8(3): e58725.
2. Pandey KB, Rizvi SI. Oxid Med Cell Longev. 2009 Nov-Dec; 2(5): 270-8.
3. U.S. Department of Agriculture, Agricultural Research Service. 2014. USDA National Nutrient Database for Standard Reference, Release 27. Nutrient Retrieved from: <http://www.ars.usda.gov/ba/bhnrc/ndl>.
4. Mireles-Rocha H et al. Acta Derm Venereol. 2002; 82: 21-24.
5. Heinrich U, Moore CE, De Spirt S, Tronnier H, Stahl W. J Nutr. 2011; 141(6): 1202-1208.
6. Césarini JP, Michel L, Maurette JM, Adhoute H, Béjot M. Photodermatol Photoimmunol Photomed. 2003; 19: 182-189.