---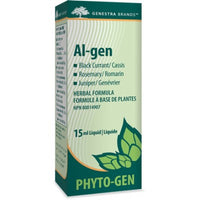 A dietary supplement can stimulate your immune system's defenses while regulating histamine response. Seroyal's Al-gen may help flush out and release many toxins in your body' which may alleviate irritation. Probiotics and antioxidants are essential for this' but you may not be getting enough from food.
Al-gen contains some of the most important plant extracts for fighting allergies. These nutrients help fight inflammation' provide you with your recommended daily amounts of vitamin C and fatty acids that can boost immunity' and relieve mild allergy symptoms.
KEY INGREDIENTS: 
Black Currant: This nutrient is rich in antioxidants and essential fatty acids. Its high vitamin C and gamma-linoleic acid content may lessen inflammation while relieving joint pain and stiffness.
Rosemary: This plant extract promotes overall health and immunity.
Juniper: This plant has anti-septic and anti-rheumatic properties. It is used to treat wounds and swelling' as well as to improve blood circulation and detoxification. At the same time' it promotes muscle relaxation while working to relieve intestinal pain.
Take ten drops daily' unless otherwise directed by doctor. Each bottle of Aller-gen by Seroyal should last between one to two months' depending on your dosage.

Phytoembryotherapy is a branch of phytotherapy that specifically incorporates plant embryological tissues (buds, young shoots, etc.) containing •plant meristem• cells • undifferentiated, fast dividing cells which contain the plant•s genetic blueprint and material. These embryonic tissues are rich in beneficial phyto-chemicals including: growth factors and plant hormones, enzymes, nucleic acids, oligoelements, and phytonutrients such as polyphenols and flavonoids. These embryological tissues are also utilized because many of the above mentioned components are lost in fully developed plants once chlorophyll is formed. These embryological tissues are also utilized because their energetic components are at their highest levels when they are harvested in the spring • the most active phase of the growth cycle.

Seroyal is a pharmaceutical company that has been striving to provide patients with the most natural supplements available for almost 30 years. Seroyal prides itself on the reliability' quality and' consistency of its products.
These statements have not been evaluated by the Food and Drug Administration (FDA). These products are not meant to diagnose' treat or cure any disease or medical condition. Please consult your doctor before starting any exercise or nutritional supplement program or before using these or any product during pregnancy or if you have a serious medical condition.