---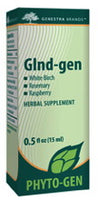 Glnd-gen is a synergistic blend of phytotherapeutic herbs to support hormone metabolism in men and women by stimulating the glands and promoting liver function for the elimination of excess hormones. White Birch Bud stimulates the liver. Rosemary, due to the liver's actions in the steroidogenic pathway, balances the hormones in both men and women. For women, it aids in the treatment of hormonal acne. Raspberry is used for ovarian dysfunction and female hypogonadal conditions, as is evident from its doctrine of signatures. Raspberry is used as an ovarian stimulant to enhance estrogen and progesterone production in cases of a female hypogonadism and precocious climacteric states. It is the main female anti-senescence remedy.*
Phytoembryotherapy is a branch of phytotherapy that specifically incorporates plant embryological tissues (buds, young shoots, etc.) containing "plant meristem" cells – undifferentiated, fast dividing cells which contain the plant's genetic blueprint and material. These embryonic tissues are rich in beneficial phyto-chemicals including: growth factors and plant hormones, enzymes, nucleic acids, oligoelements, and phytonutrients such as polyphenols and flavonoids. These embryological tissues are also utilized because many of the above mentioned components are lost in fully developed plants once chlorophyll is formed. These embryological tissues are also utilized because their energetic components are at their highest levels when they are harvested in the spring – the most active phase of the growth cycle.
*Your results may vary from those listed above.
*These statements have not been evaluated by the Food and Drug Administration.

*This product is not intended to diagnose, treat, cure or prevent any disease.