---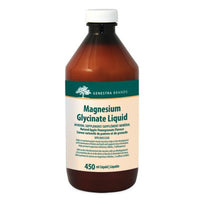 Magnesium glycinate formulation
• Helps to maintain proper muscle function
• Helps to metabolize carbohydrates, protein and fat
• Magnesium glycinate is a gentle form of magnesium that is less likely to cause loose stools1,2
• Helps in the development and maintenance of bones and teeth
• Helps to prevent magnesium deficiency (adults, 2 tablespoons)

Dissolves completely in water
•    No cloudy residue
•    Great-tasting apple-pomegranate flavour

Magnesium is a cofactor in over 300 metabolic reactions. It is involved in the maintenance of muscle function, glucose metabolism and muscle contraction, among several other important physiological roles.3 Magnesium helps to maintain bone health by regulating the production of parathyroid hormone (PTH) and calcitriol, which helps to increase calcium absorption and minimize risk of calcium deficiency.4,5 In the United States, insufficient magnesium intake is estimated to occur in approximately 64% of men and 67% of women, with even higher levels of insufficient intake in elderly individuals.6 Magnesium glycinate (also known as magnesium bisglycinate) is a highly water soluble amino acid chelate of magnesium and two glycine molecules. Clinical evidence indicates that magnesium glycinate has a significantly higher bioavailability than magnesium oxide, and is less likely to cause a laxative effect.1,2 Supplementation with magnesium glycinate has been shown to decrease the severity of muscle cramping: in a clinical trial on 86 healthy pregnant women with recurrent muscle cramps, supplementation with 300 mg of magnesium glycinate for 4 weeks reduced both the frequency and intensity of leg cramps.2


References
1. Schuette S, Lashner B, Janghobani M. Journal of Parenteral and Enteral Nutrition. 1994; 18: 430-435.
2. Supakatisant C Phupong V. Maternal and Child Nutrition. 2015; 11(2): 129-145.
3. Volpe S. Advances in Nutrition. 2013; 378S-383S.
4. Zofkovà I, Nemcikova P, Matucha P. Clinical Chemistry and Laboratory Medicine. 2013; 51(8): 1555-1561.
5. Fong J and Khan A. Canadian Family Physician. 2012; 58: 158-162.
6. Moshfegh A, Goldman J, and Cleveland L. NHANES 2001-2002: Usual nutrient intakes from food compared to Dietary Reference Intakes: US Department of Agriculture, Agricultural Research Service. 2005: 1-5.