---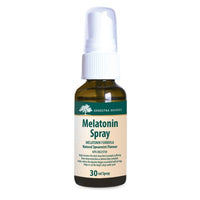 STRONG stuff!
Not sure if it's because my body is ultrasensitive, but the full dose of this melatonin makes me groggy in the morning (even taken early in the evening and as directed). I use a third of the dose instead and I have the BEST nights sleep! Whenever I'm not sleeping well this is my go to!
Promotes healthy sleep patterns
• Helps increase the total sleep time in people suffering from sleep restriction or altered sleep schedule (e.g. shift-work and jet lag)
• Helps reduce the time it takes to fall asleep in people with delayed sleep phase disorder  
• Helps relieve the daytime fatigue associated with jet lag
• Helps re-set the body's sleep-wake cycle
• Delicious natural spearmint flavour
Melatonin Spray provides melatonin to help reset the body's sleep-wake cycle. Difficulty falling and staying asleep are two major symptoms of sleep dissatisfaction in Canada, which affects over 20% of Canadians.1 Research demonstrates that supplementation with melatonin significantly decreases the time required to fall asleep, increases total sleep time, and improves sleep quality when compared to placebo treatments.2 Supplementation with melatonin before sleeping can improve sleep quality and duration among shift workers, who often experience sleepiness and/or judgment errors during work, leading to poor job performance.3 Melatonin intake at local sleep times can also advance the sleep-wake cycle to decrease fatigue associated with jet lag.3 Melatonin levels significantly decrease with age, which may contribute, in part, to sleep dissatisfaction among older individuals.4
REFERENCES
1. Morin, C. Insomnia Rounds. 2012; 1(1): 1-6.
2. Ferracioli-Oda, E, Qawasmi, A, Bloch, MH. PLoS ONE. 2013; 8(5): e63773.
3. Lu, BS, Kwon, J, Zee, PC. (2012). In M.S. Badr (Ed.), Essentials of Sleep Medicine (pp. 277-296). New York: Humana Press.
4. Claustrat, B, Brun, J, Chazot, G. Sleep Medicine Reviews. 2005; 9: 11–24.