---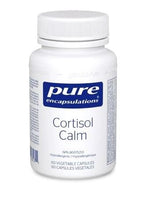 Cortisol Calm
I've noticed a calmer and longer sleep and an over all calmness.
I love this stuff!
Cortisol Calm has been awesome for improving overall mood and reduced stress. It's also been super helpful for helping me fall asleep and stay asleep at night!
Cortisol Calm is a blend of herbal extracts, including Sensoril® ashwagandha, rhodiola and magnolia, plus vitamin D and l-theanine – the bioactive compound originally found in green tea. Cortisol, released in response to stress, is mainly produced by the adrenal cortex. Intra-abdominal adipocytes also produce cortisol. Identified as an adaptogen through extensive research, rhodiola helps to temporarily relieve symptoms of stress (such as mental fatigue and sensation of weakness) by maintaining healthy adrenal cortisol activity. Recently, a double-blind crossover study examined the effect of rhodiola on mental performance in healthy physicians. The results suggest that rhodiola may help to moderate fatigue under stressful conditions and to support cognitive function, including mental focus and stamina. In a separate, double-blind, placebo-controlled pilot study, rhodiola provided support for physical and mental stress in students. Promoting the proper activity of neurotransmitters such as serotonin, norepinephrine and dopamine plays a part in this herb's ability to support cognitive functioning, memory and attention. Cortisol Calm also contains Sensoril
®
ashwagandha, a clinically researched form of the herb. Ashwagandha is traditionally used in Ayurveda for memory enhancement and as a sleep aid. As stress may also decrease immune responses over time, vitamin D is included to help maintain immune function, including immune cell maturation, differentiation and migration.
Rhodiola is used in Herbal Medicine to support cognitive function and as an adaptogen to help temporarily relieve symptoms of stress
Ashwagandha is traditionally used in Ayurveda for memory enhancement and as a sleep aid
Vitamin D maintains immune function
 

Gluten Free
 

GMO Free
 

Vegetarian