---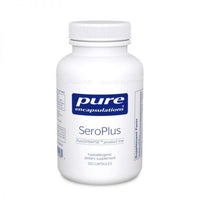 Supports serotonin production to promote positive mood, moderate occasional stress and maintain healthy eating behavior.
Supports healthy serotonin production‡
Promotes relaxation and helps moderate occasional stress‡
Made with hypoallergenic, vegan ingredients
Certified Gluten Free
SeroPlus promotes enhanced serotonin production to support relaxation and moderate occasional stress. SeroPlus also helps promote positive mood, which helps maintain healthy eating behavior.
*THIS PRODUCT IS ONLY AVAILABLE TO U.S. CUSTOMERS.*