---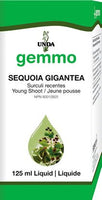 Sequoia Gigantea originates in Sierra Nevada, California. Here, this majestic tree can grow up to 100 meters high where in the Parisian climate it reaches only up to 40 meters tall outside of its native soil.
Sequoia Gigantea stimulates and augments the 17-keto adrenal hormones.
In men, Sequoia Gigantea acts on the seminal vesicles, increases spermatozoid production, decongests a congested prostate and can be used in cases of chronic prostatitis and at the onset of prostatic adenoma (must be confirmed via lab assessment to be of a noncancerous origin).
The general stimulating actions of the Sequoia buds increase the morale and outlook in male sexual fatigue to enhance both form and performance.
For women, Sequoia Gigantea assists as an estrogen precursor for menopausal transitions, as well as in the minimization of uterine fibromas The secondary action of Sequoia Gigantea is a remineralizer, hepatic drainer and tonifier.
In terms of bone health, Sequoia Gigantea stimulates osteogenesis in both men and women and helps counter osteoporosis and slow bone consolidation in addition to treating glass bone disease.
Sequoia Gigantea works well when combined with Quercus Pedunculata and Ribes Nigrum.